Hej!
What's good?
It has been a long time, since I wrote the last entry here. Daily business just took to many time and I thought it would be good to come back with real news.
So it's december, 2012 is almost over, pre-christmas craze just started and I like to drop some awesome new AURORA gear just in time for this.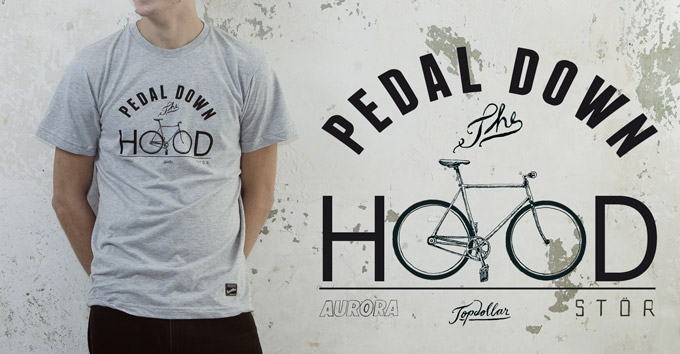 With the good people from Topdollar in Berlin and their friend and illustrator "Der STöR" I finally finished a nice collaboration collection. I met Artje from Topdollar about two years ago after the Bright Tradeshow and we had some breakfast together. While talking, we decided that we have to do something together. We both love bikes, so why not keep it simple?
Pedal down the Hood
Get this awesome design on Shirts (black, white, grey), Tote Bags (black & natural), Sea Sacks and Gym Sacks.

Besides this collaboration, I was also working on more cut&sew pieces for AURORA and future releases. The first result is the
AUROR 5 Pocket Chino Pant
, which is availble from now on in two colors and four sizes! I'm really proud on this one, because it just fits and works perfectly.
It's a modern 5 Pocket Chino cut with stretch added for comfort on bike or board.
Slightly slim-fitted, to keep the pant legs away from the chain/chainring and of course prevent for too much flapping around in the wind.
To complete the look, I added a new Crewnack to the collection. With the new awesome AURORA "Serif" Crewneck in grey and navy. Soft-touch, modern fit, simple and subtle design.
Fuck hype and branding, it's about the quality.
Check out the new gear and also the sale section.

AURORA Watch Cap – all black // AURORA Watch Cap – black/cyan
AURORA "Serif" Crewneck – grey // AURORA "Serif" Crewneck – navy
AURORA 5-Pocket Chino Pant – beige // AURORA 5-Pocket Chino Pant – black
Thanks for the ongoing support.