Hej,
I just wanted to post my beloved Principia to the Pedalroom website and thought that I could also post it here.
Not much personal bike content here so far, so why not change this?
The Principia is simply my favorite bike, it's just subtle and beautiful all black. That's why I use to call it "Phantom".
I've built it up more than 2,5 years ago and just rode it since then. I will never give it away, for me this one is not replaceable and it outlived a lot other frames/parts/bikes so far. The parts used in the current built are mostly chosen because of the weight and quality. Step by step I tried to push down the weight and in the current set-up the Principia weights only about 7,5 kg.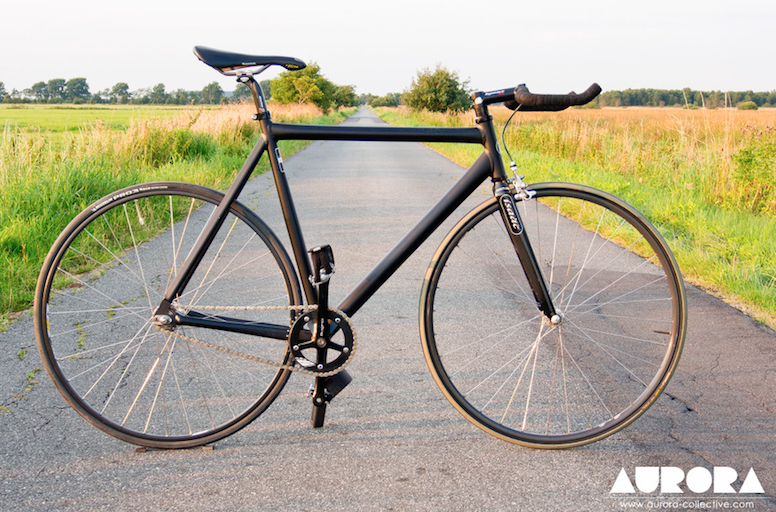 I also really like the AURORA V1 velcro straps on this bike. These are one of the first prototypes made in early summer 2009. I'm not riding as hard as many others and not that long as so many couriers do everyday worldwide, but I'm happy that they still do well after more than 3 years. Compared to the AURORA Straps today, they look really crappy, but it is also good to see where it all started and how everything developed in the right direction.
If you are interested in the parts, check this list:
Frame:
Principia Track Frame 2004
Principia/Isaac 004 Fork – Carbon w/ Aluminium Steerer
Stronglight O'Light Headset.
Crankset/Pedals:
Sugino RD-2 Messenger black
MKS Sylvan Track with AURORA V1 Velcro Straps.
Still one of the first ones from early Summer 2009!

Cog/Chain:
Shimano DuraAce 15t NJS Cog + KMC Z710 Chain
Handlebars/Stem:
Syntace Stratos 200 – S (39cm)
Syntace F99 – 105mm
Saddle/Seatpost:
Selle Italia Flite Titanium
Ritchey Carbon WCS Seatpost

Brakes:
Shimano 600 – BR-6208

Wheel/Hub/Tire:
Front: Campagnolo Omega Hardox Strada rim laced to Gran Compe Hub with Michelin Pro3 Race Tire.
Or FIR rim laced to Suntour Superbe Pro Hub, mostly for traveling issues.
Rear: Campagnolo Omega Hardox Strada rim laced to Gran Compe Hub with Michelin Pro3 Race Tire.
https://www.pedalroom.com/bike/principia-track-2004-phantom-6940#photo42226
https://www.pedalroom.com/bike/principia-track-2004-phantom-6940#photo42227
https://www.pedalroom.com/bike/principia-track-2004-phantom-6940#photo42222
https://www.pedalroom.com/bike/principia-track-2004-phantom-6940#photo42228
https://www.pedalroom.com/bike/principia-track-2004-phantom-6940#photo42229
https://www.pedalroom.com/bike/principia-track-2004-phantom-6940#photo42219
https://www.pedalroom.com/bike/principia-track-2004-phantom-6940#photo42218
https://www.pedalroom.com/bike/principia-track-2004-phantom-6940#photo42220
https://www.pedalroom.com/bike/principia-track-2004-phantom-6940#photo42221
https://www.pedalroom.com/bike/principia-track-2004-phantom-6940#photo42224