"AURORA" Track Pants
Unisex dark gray track pants with large printed "AURORA" logo, drawstring waist and cuffed ankles.
– 2 closable pockets with quality zippers
– back pocket with embroidered logo patch
– 70% cotton  30% recycled polyester
– fair and environmental friendly produced
– design may vary slightly
---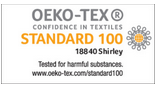 SKU: N/A - Need Help? Contact Us Leave Feedback
Categories: Pants, Sweatshirt
Contact Us
General Info, Distribution, Press:
info(at)aurora-collective.com
Mailing Address:
AURORA
Collective
c/o Karsten Gondek
Siedlungsstraße 18
24799 Christiansholm
Germany
Leave Feedback
If you want some more information, got a opinion, have great plans, want to collaborate or just get in touch, please drop us a line.

We are looking forward to hear from you!